Case Study:
Sport Photo Gallery
Scoring a major victory with the UK's #1 Sports Photography Website
Sport Photo Gallery is one of the UK's leading online sports posters, prints and merchandise retailers. We began working with Sport Photo Gallery in March 2018 and did such a good job that we took over their paid search campaigns in October 2018 too. In this case study, we explore what went so right for Sport Photo Gallery, how we here at Unik SEO managed to almost double their year over year organic traffic and increase their revenue by 50%!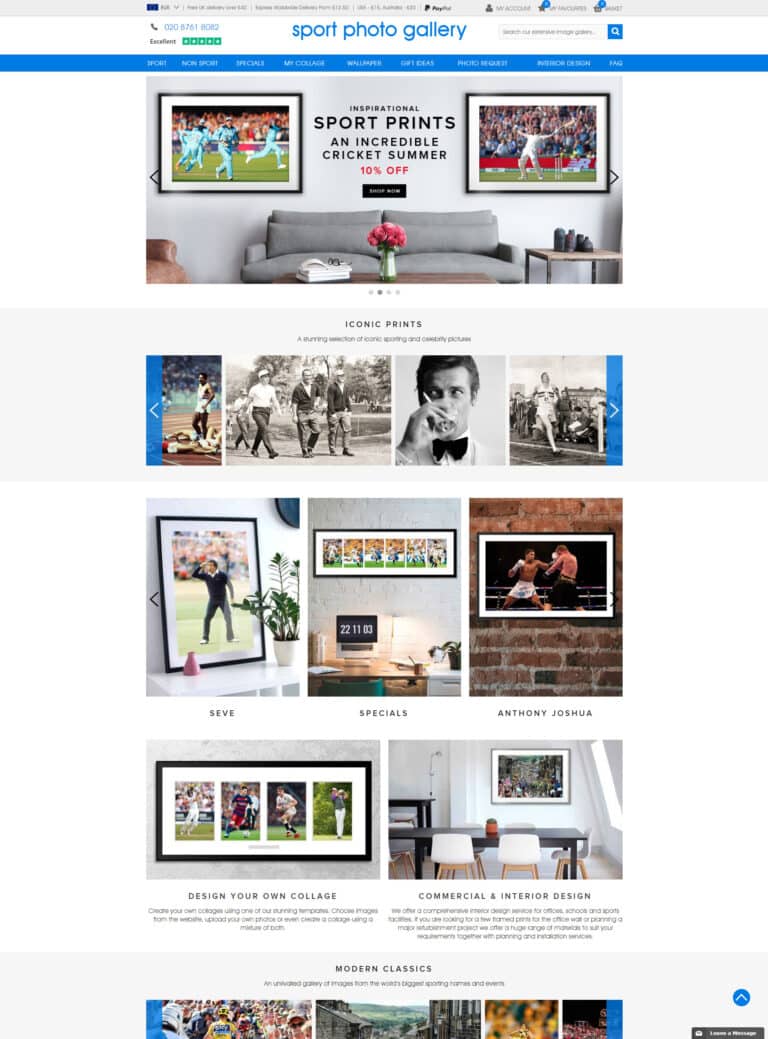 The three core elements of SEO are on-page optimization, backlinks and technical set-up. By examining each of these areas for every website we work with, we're able to develop a unique optimization strategy. Sport Photo Gallery had a well-designed, user-friendly and responsive site already, so there was little to improve in terms of functionality. Some foundational on-page optimization was still missing however and, in SEO terms, we were pretty much starting from scratch.
The real challenge was optimizing at scale; as with many e-commerce sites, Sport Photo Gallery has thousands upon thousands of pages! Our team took the time to get to know the site, researched search volumes for relevant keywords and found the best way to frame content across the site. The Sport Photo Gallery site also needed greater exposure on authoritative websites. This has a dual purpose – not only does being featured on high-quality sites expose the brand to new audiences (and potential customers), but search engines also value the positive indication a link back to a site offers. The right link from the right website promises to boost the linked-to page and site as a whole.
What we implemented was keyword-optimized content for every page on the site – a big task, but well worth doing. Instant rankings and traffic bump followed. When you're starting from scratch, optimizing text in this way can make for a good start. Off-page, we focused on sports sites specifically, both in the UK and the US – the company's principal markets. Creating a diverse link profile – with articles and guest posts focusing on a variety of different sports and anchor texts – is an ongoing project aimed at creating and consolidating authority in the sporting sector.
Know what we can do for you
Ask for your Free SEO Analysis!