360º Virtual Tour
An amazing all-included service to push your physical space forward in the Search Engines and get discovered efficiently using a 360º view of your store, restaurant or office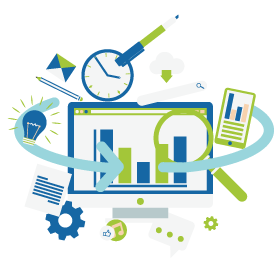 It is a virtual tour of your business with a 360 degree view which will allow you to present your products and services to your customers, prospects and leads. Guests visit your premises on their computers or mobile devices and will evolve exactly as if they were there.
Let your potential customers discover and enjoy your store / shop / business physical place directly online without any effort! They will literally be able to discover you faster and easier as well as "walk thru" the in and out of your business via Google Street View and Google Map.
You wish to put your business forward and promote your shop on Google Map & Street View?
You want to get discovered, offer a high quality user experience for your customers while optimising your SEO? The Virtual Tour is the answer to your needs.
The 360 Virtual Tour has many benefits for your local business
A clear visual appeal for your company, available virtually 24/24 all year around.
Optimising your SEO on Google.
A strong presence on Google Street View and Google Map.
A significant visibility on Google search (Google search), Google+ (Google's social network) and Google Maps (Google mapping service).
Your website and your social networks are gaining momentum and traffic from local searches.
Compatibility with all types of media: computer, smartphone or tablet.
A mini budget required, as a single payment.
An immediate differentiation from your competition.
A HTML code to integrate the Virtual Tour directly on your website.
How do we proceed with the 360 Virtual Tour?
The process is fairly simple and executed in a short time !
Meeting
We setup a meeting at your local business with the photograph depending on your availability as well as the weather conditions and to get as less people as possible.
Taking Pictures
The photograph takes the necessary pictures (360º and stand still) from inside AND outside your business or local shop.
Google Setup
Your 360º Virtual Tour is created, edited and sent to Google. After verification, fine tuning and approval, Google will set it up live on Google Street View and Google Map.
Follow Up
We will inform you once your 360º Virtual Tour is live and sending you the direct link as well as the necessary credentials to access all the relevant information. Additionally we will send you an HTML code for you to be able to add the Virtual Tour on your website.
Tell us about your 360 Virtual Tour needs!
We are here to help you unleash the power of the 360º Virtual Tour on Google. It will bring to your local business and website a ton of visibility on Google Map and Google Street View as well as helping with your Local SEO and organic traffic by being discovered by your local potential customers.