Marijuana SEO is the necessary tool for your cannabis-related business to gain visibility, organic traffic and drive new customer acquisition. Having the right Marijuana SEO strategy for your website, dispensary, brand or product will help you grow your business.
How will we help you with Marijuana SEO?
We will put all of our expertise to help you to increase your organic traffic, sales and ROI goals for your marijuana business in the following ways:
Following recent changes in laws and regulations in various countries related to the medical and recreational use of cannabis, the cannabis industry is growing exponentially. The forecast for growth in the US market over the next seven years is huge. European countries will certainly follow this trend as well.
This means that there are huge opportunities for new businesses to be created throughout the supply chain. Cannabis-related businesses such as:
Local weed and cannabis farmers
New brands
New products (oils, dry leaves, etc.)
Re-sellers
Carriers
Dispensaries (medical or recreative)
Local stores
Online purchases ​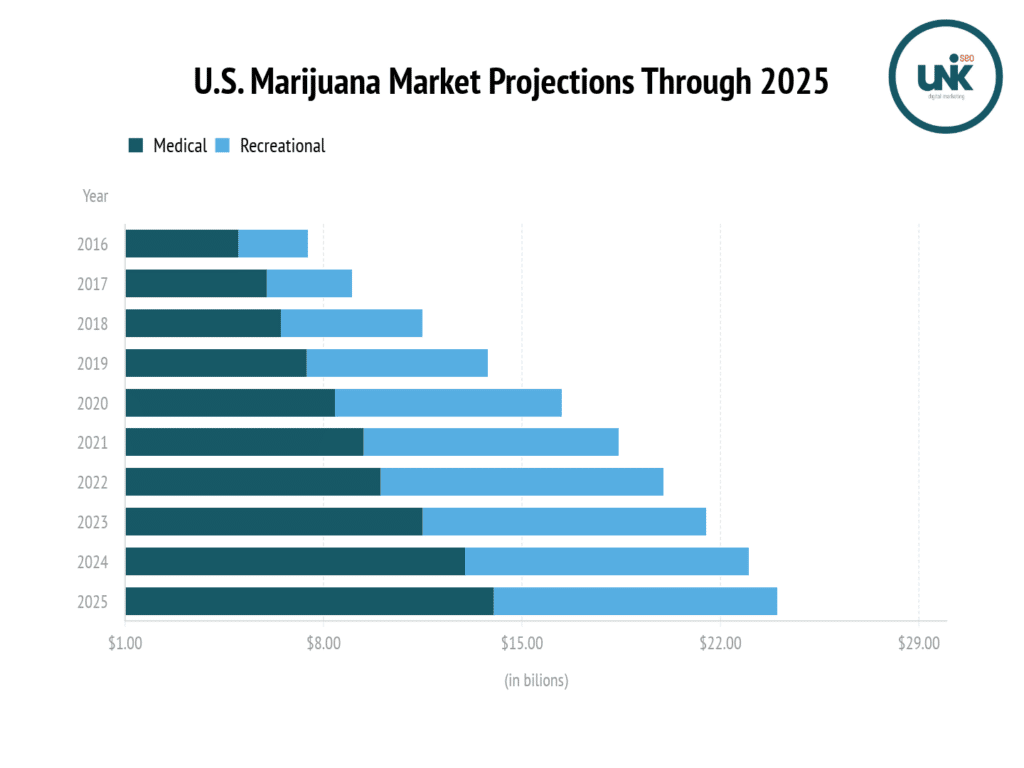 The chart above shows the size of the US cannabis market size. Over the next 2 years, this sector is expected to represent more than $ 15 billion in the US alone. Globally speaking, the same trend is visible: Latin American and European countries are increasingly adopting medical cannabis programs. Germany will also consider recreational legalization in the coming years. The cannabis industry will be one of the main growth factors in developing countries for both medicinal and recreational uses.
As countries legalize cannabis-related regulations, the market is expected to see increased demand. Most cannabis is currently sold through illicit channels and markets. In an attempt to curb trade on the black market, governments are seeking to legalize cannabis use in order to control products entering the supply chain and thereby gain benefits by collecting taxes on those products.
With the increasing legalization of Cannabis in many countries, the Marijuana industry is becoming increasingly competitive. With luck, Marijuana SEO is here to help your brand and your business!
Marijuana SEO is a set of specific SEO techniques 100% related and focused on cannabis-related businesses, such as:
Marijuana competition analysis;
SEO Local Cannabis, including Google MyBusiness account setup – for cannabis dispensary and/or accessories resellers;
Conversion optimization (leads, sales, newsletter subscription, etc.) – for cannabis sales e-commerce sites;
Google penalty assessment, removal and cleaning of invalid links;
Cannabis Link Building – increase the authority of your website and rankings;
Quotes and Directories related to the cannabis business – help with local rankings;
Keyword search on cannabis;
Other "mainstream" SEO techniques applied to the cannabis business.
Our SEO cannabis service was specifically created to meet the needs of SEO cannabis! It follows all the main requirements and good practices of Google SEO (and other search engines) and applies them to your cannabis related business. This will help you rank your site as high as possible on the search engine results pages for the main cannabis search terms important to your company or business. The main and ultimate goal of SEO cannabis is to bring additional visibility and traffic to your cannabis website in order to increase ROI as well as brand recognition.
Canada fully legalized recreational cannabis in October 2018. Producers will need to be licensed by the government, and individual provinces can determine how the product is sold and distributed. The government, however, will not disclose or promote anything related to cannabis use.
Along with some states in the US where cannabis use is legal, the doors are open for a "weed race" as companies enter this new market, full of growth possibilities. There are currently several publicly traded companies in the stock market and others will follow in the coming years.
This cannabis race is creating a very competitive marketplace in which "players" will need to stand out and fight for Google's most important places as users and other B2B companies increasingly search for market opportunities and of investment.
This is especially true as it is not (yet) allowed to do any paid advertising related to both medical (recreational) and recreational use. In fact, as for cryptocurrency advertising or for the adult industry, it is not allowed to promote any kind of cannabis-related business on social networks or search engines.
In addition, other secondary markets (such as seeds, accessories, processed products, etc.) will also grow as consumers start producing at home without the risk of being punished. More competition will enter the cannabis market soon and companies will have to adapt and "fight online" to stay on top.
The long term solution to this situation is obviously search engine optimization to gain organic traffic and visibility. Marijuana SEO is now a basic necessity for all companies related to the Herb related industry and UniK SEO is here to provide SEO services specifically focused on Cannabis promotion and advertising.
Know what we can do for you
Ask for your Free SEO Analysis!