Our Hotel SEO service is composed of a set of SEO strategies specifically created for hotel businesses. We know how difficult it can be for hotels to have their brands highlighted on Google. Therefore, we have created an SEO service dedicated to hostel businesses.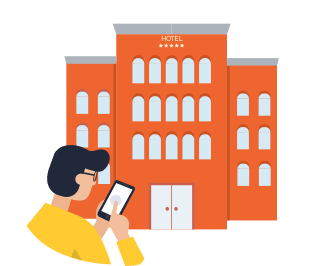 At UniK, our hotel centric SEO solutions programme is designed specifically for the unique needs of the hotel market. This market comes with both individual challenges and requirements. Thus, to address every aspect of your Hotel SEO, UniK tailors their tools with your business in mind.
The indisputable fact of the modern-day Hotel business is knowing how to effectively reach online audiences. Statistics say that 88% of Americans prefer to book their accommodation online anytime they travel. Meaning this applies far beyond the nation's borders.
Another statistic that may catch you by surprise is that the average rate for occupancy in hotels is just 66%. This means that hotel owners must balance their in-house amenities, services, and marketing strategies to fit within the budget of a less than a full house.
To have a thriving hotel business, it's important that potential clients know how to find and book with your establishment. Perhaps just as important as establishing yourself as a trustworthy authority in the industry. The bright side in all of this is that with appropriate Hotel SEO, your business can tick more than just one box at a time. Easily consolidate tasks, which can help to reduce your overhead.
Hotel SEO is a digital marketing strategy that is specifically tailored to address the unique needs of the Hotel industry. While SEO does indeed stand for "search engine optimization" the goal of useful SEO practice is not as single faceted as it sounds.
SEO will indeed strive to improve your hotel's search engine ranking, but it is a multi-pronged approach to this that also extends alternate benefits as well. This includes things like brand recognition and the establishment of trust. In a multi-pronged approach, appropriate hotel SEO strives to improve visibility, access, and usability. Ensuring that customers can not only find your business, but navigate your site with ease, and rely on you for competent information.
The key to these prolific strategies has to do with creating high-value content and increasing organic traffic. Helping to build your business over time with consistent, useful, and data-driven tactics.
Hotel SEO is important for your business, as we've seen. But why it's so important goes a bit deeper than how it goes about creating customer bases and improving your search rankings. All aspects of this particular SEO work synergistically with one another to create long-lasting and quality improvements to your digital marketing campaign.
For example- web design is important for more than just establishing credibility. As no one wants to deal with a jumbled or outdated website, outmoded setups can cost you more than currently interested customers.
Google is far less likely to give slow to load or outdated format pages a good ranking- as there is no likely credibility in the source. Customers are less likely to use online booking features should the website be hard to navigate. If your website offers poor accessibility, it will without question have your bounce rates creeping ever higher. These concepts hold true no matter how luxurious your hotel's features or amenities are. Largely because a poorly working or designed website damages overall credibility.
The same can happen with low-quality content or using bots to do your bidding. Few customers respond well to "spam" campaigns. Without the interactions between your site and corresponding industries, Google rankings will take a hit and your business will not receive the publicity it genuinely needs.
Using SEO for hotels is something that anyone can do- however, using it well, creating the highest levels of usefulness and seeing rapid results, that takes an expert. Many SEO novices can easily fall prey to SEO scams and unacceptable practices without them knowing it.
As SEO is indeed a multi-faceted approach to the vitality of your business, an SEO team is generally the best way to be able to address each avenue of necessity. A team that understands that quality, timeliness, and commitment are the underscoring principles of effective SEO.
Creating a steadfast digital presence can also help secure revenue lines and continued customer loyalty, even during off-peak seasons. Optimizing content to keep your business in full view of the public can mean a continued reliance on customers, even as their individual needs change. The online marketing sphere is fast-paced and ever-changing, requiring constant vigilance and 24/7 surveillance. Knowing your customer base goes beyond understanding what your clients are looking for in a hotel.
Instead, SEO practices hope to know your customer base, both current and projected, on a more intimate level. Creating content that is relevant to them at any time, tying your business model and standards with the brands and events that are most important to them. This can maintain credibility in an unstable market, and keep your brand on the tip of their tongues.
Know what we can do for you
Ask for your Free SEO Analysis!