How do we counterbalance the seasonal variations in traffic for a tourism website?
Troia Resort is one of the best Beach Resorts in Portugal. It belongs to the Sonae Group, (the biggest company in Portugal sales-wise) and is also a Portuguese Real Estate, Villas & Properties supplier. UniK SEO began working with the company in May 2017. The challenge was to counterbalance the seasonal variations in traffic by increasing organic traffic. After a highly successful re-optimization plan, organic traffic was up by 40% compared to 2017!
In this case study, we will explain the key factors that contributed – and still contribute – to the success of Troia Resort, the type of strategy we use and how we developed it.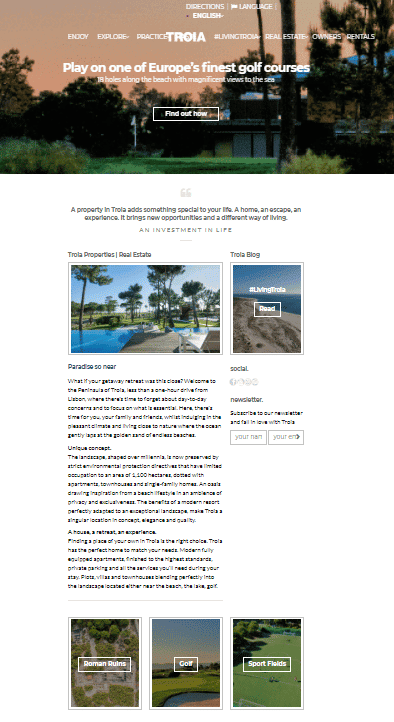 In 2008, Troia Resort decided to start promoting the brand as a Resort with a broad offer of activities, events, hospitality and real estate. Thus, the main goal that was defined was the activation and dynamization of the new concept: Lifestyle and exclusivity in the online universe through the raise of notoriety and promotion of the services.
After the initial SEO Audit to Troia Resort's website, we detected pages lacking meta-data and with inefficient meta-data. After the Keyword Audit and the OnPage Optimization – placing titles, descriptions, text and internal links in every webpage -, the strategy was to remove irrelevant pages from the sitemap.xml (noindex) and to redirect the relevant URLs. The main goal in these procedures was to not dilute the keywords' importance and to attribute value to the most important pages. We also restructured pages focused on the user (UX/Design).
Regarding strategical goals, UniK SEO's part has been to position the relevant keywords on the first page of search results (Portugal and United Kingdom). With this, we intend to generate qualified and segmented traffic for the website, improve user experience and increase the return on investment (ROI).
Despite the challenges we faced working with Troia Resort – mainly related to contradicting the seasonal traffic variations -, our SEO strategy had a positive impact in the Organic Traffic results: 40% growth in the Organic Traffic total by the end of 2018. 
We create quality contents for the Blog and we update the existing contents with the maximization of clicks in mind. We also invest in creating Guest Posts that are published in Travelling, Tourism and Real Estate websites (PT and UK) with high authority and traffic in order to generate new backlinks to the client's site. Registering in national and international directories and publishing comments and citations of reference to the brand Troia Resort is also part of the strategically designed Link Building plan we have been developing and implementing.
Know what we can do for you
Ask for your Free SEO Analysis!