Adult Products India:
SEO Case Study
Goal: Beating off the competition to reach the top of the SERPs
Adult Products India is one of India's leading sex toy retailers. UniK SEO began working with them in March 2018 with the exact goal to improve both organic traffic and revenue. Following a re-optimization plan, Adult Products India celebrated a bumper year – organic traffic was up 60% and revenue from organic traffic went up a humongous 80% too. What worked for their site? We take a look at it in this client case study…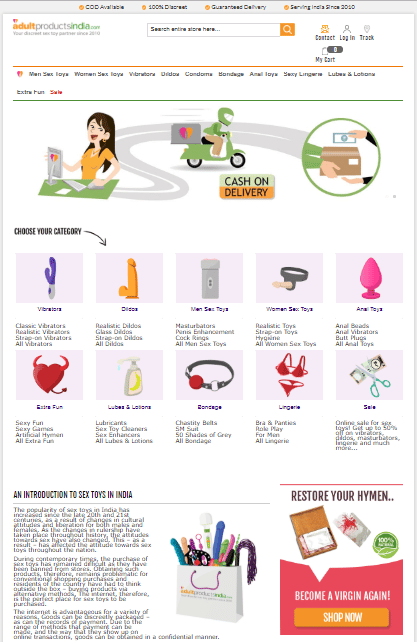 Every client brings with them a unique set of expectations, challenges and – of course – opportunities. Adult Products India hoped to position themselves as the leading online sex toy retailer in the Indian market – number one rankings for all the relevant keywords were key! With big e-commerce sites competing for market share however, it wouldn't be easy…
One major challenge we faced with Adult Products India was a vast reduction in their product range about halfway through the calendar year. This meant a large drop in the number of pages on the website, as well as fewer opportunities at conversion. Despite these sizable challenges, our strategy remained agile. Working in constant communication with the company's business directors, we developed a strategy to lick their website into shape and to achieve and maintain the highest positions in the search engine result pages (SERPs).
Improving the performance of an e-commerce site as large as Adult Products India is synonymous with optimization in scale. We started with the basics and following an e-Commerce SEO strategy, we got a big boost in organic customer traffic during the first month of work. We also created several pages that specifically targeted local surveys in the largest population centers in India. Within about a month, thousands of new users were discovering the website and enjoying the services of the company.
Additionally, we employed a set of link building techniques to build the authority and reach of the site. Through press releases and guest posts, we were able to build natural backlinks through conquered media. You can see some examples of press releases made for this client at the following links:
All of this combined work has recently contributed to a 60% increase year on year in trafficking – which is quite significant given that we started in March. Transactions also climbed an impressive 97% year over year – another extraordinary result for the UniK SEO and Adult Products India team!
Know what we can do for you
Ask for your Free SEO Analysis!