What is Spannabis?
Last week, we attended Spannabis, one of the most important cannabis fairs, hosted in Barcelona.
During three days, you can meet with the most important cannabis players in the industry such as: fertilisers and nutrients providers, seeds banks, medical cannabis labs, CBD products providers and vaping brands.
This is a great opportunity to try new products and meet with companies specialised in the CBD and the cannabis sector. You should not miss it!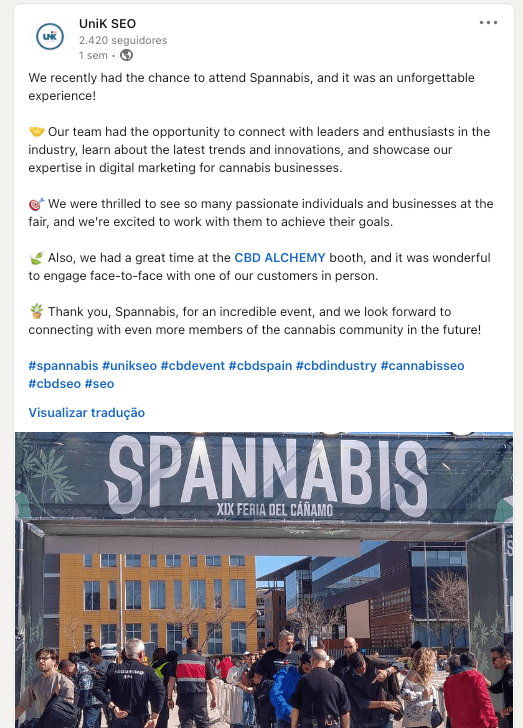 Since 2002, Spannabis helps promoting the benefits of the plant as well as new innovations. The festival is renown worldwide and attracts every year between 30 000 to 35 000 people, coming from different countries.
Nowadays, the size of the event is nothing compared to twenty years ago. This year, there were a main hall and four side halls, and it took us the whole three days to meet with all the exhibitors!
Spannabis conferences, a good way to know the industry
On top of meeting with interesting companies, you can also attend Spannabis conferences at the World Cannabis Conference. This year, there were very good talks regarding the cannabis social clubs, the cannabis legislation, the benefits of cannabinoids on cancer treatments and the overall benefits of cannabis.
This is very useful to educate the public on the cannabis industry, understand how the legislation is evolving and learn about the latest innovations.
Find out the best companies with the Spannabis awards
Every year, the best exhibitors are celebrated during the Spannabis awards. Some of the most important prizes are best seed bank, best cultivation product and best nutrient.
Winning companies gain visibility and recognition, as the awards are well known in the sector. This also offers some guidance to help customers make the best choices when it comes to CBD and cannabis-related products.
Some practical tips to visit Spannabis in 2024
We will definitely attend Spannabis next year, and if you want to join this great event too, let us share some practical information with you.
Companies that would like to get a booth are going to wait… For a few years! Unfortunately, Spannabis is a victim of its own success, and there are so many companies that want to attend, that they had to put in place a waiting list now.
Once you arrive at Spannabis, you will need your identity card to get your ticket at the entrance. Note that one-day tickets offer a unique access, but you can come in and out as much as you want with a three-days-pass.
There is a cloakroom where you can leave jackets and bags for just a few euros. They only accept cash though, so be prepared! Finally, and as you could imagine, the festival is only restricted to adults, and children are not allowed.
How to work on your online visibility after Spannabis?
Many companies attend Spannabis as it is very challenging to promote your business when you sell cannabis-related products. Google and Meta forbid ads campaigns online and there are not many events in the world as cannabis and CBD are both highly regulated.
In order to get new customers, you can rely on SEO (Search Engine Optimisation). Through SEO audits, technical optimisations, content creation and link building, you can optimise your website to get on the top results on Google.
You can learn about Marijuana SEO on our website.
All in all, we highly recommend attending Spannabis for any company working in the CBD or Cannabis industry, as it can enable you to gain visibility in a very short amount of time. In conjunction with a digital marketing strategy, it offers a new way to reach out to new customers.