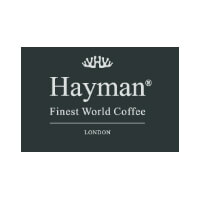 Hayman Coffee was born in London, UK, in 2014 with the single goal of offering the finest world coffee, such as Jamaica Blue Mountain, Wild Kopi Luwak, Hawaii Kona, Panama Geisha and Cup of Excellence® award-winning brazilian coffee, to connoisseurs who refuse to compromise on their quest for perfection. In 2015 we have relocated our head office to Lisbon, Portugal.
Hayman Coffee's founder decided to bring together his strong experience in the luxury and consumer goods industries, and mix it with his passion for rare and exotic coffee, in order to develop a new and unique product – the finest world coffee in capsule form. We are the first to offer only the most exclusive coffees in Nespresso ®* compatible pods.
We are committed to offer only the finest world coffees, also known as specialty coffees. Once these unique treasures are identified, we select the growers who produce the most extraordinary coffee from that origin. Second best is neither good enough for us, nor for our faithful customers, who trust us as purveyors of the finest world coffee.
Hayman Coffee never blends coffee from different origins or qualities, and guarantees full traceability for every precious bean brought to our special customers. In order to ensure unparalleled freshness, Hayman never stocks roasted coffee. We defend a roast-to-order philosophy and therefore only roast the coffee beans once your order is received. This is a very rare approach in the coffee industry in general and simply unheard of in the coffee capsule sector.
We do not refer to our specialty coffee as premium or gourmet, terms used too loosely these days, as we believe it would represent a strong understatement of its extraordinary quality, freshness and rarity.
We are proud to provide our customers with highly attentive care before and after the purchase, because an exceptional coffee is only part of the Hayman experience.
The environment is another cornerstone of our vision. Hayman Coffee actively contributes to environmental protection by using only recyclable pods and packaging.
As a testament to the unmatched quality of our coffee, Harrods and Selfridges, the high-end department stores in London, are Hayman Coffee's exclusive retailers in the UK.
Hayman is a member of the Speciality Coffee Association of Europe (SCAE), the ultimate authority in coffee excellence. Hayman exhibited at the London Coffee Festival, one of the largest and most important coffee fairs in the world.
Website: https://www.haymancoffee.com